Centre-fed linear resonant waveguide slot array with longitudinal broad-wall slots
| | |
| --- | --- |
| | Image of the Centre-fed linear resonant waveguide slot array with longitudinal broad-wall slots. |
The centre-fed resonant waveguide slot array is a variation of the end-fed resonant waveguide slot array, already contained in Antenna Magus. The centre-feed is a popular feeding approach for planar arrays, using an underside feed guide below the radiating guides. The feed guide is orientated perpendicular relative to the linear arrays that make up the planar array, feeding each of them at their centre via an inclined slot in the (common) broad-wall.
The advantages of the centre-fed option include simpler implementation of complex power divider networks in the feed, as well as better pattern stability (related to beam peak squint) just off resonance.
The antenna produces a fan beam in the plane of the waveguide cross-section, with a maximum at broadside. The bandwidth is rather narrow, in terms of impedance and pattern quality.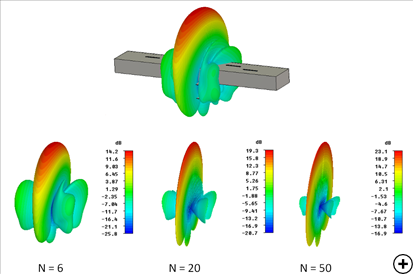 Total 3D gain at the centre frequency for different numbers of slots using a Villeneuve distribution.